KETTERER 10.300
The Ketterer 10,300 is undoubtedly one of the best engine homes in its class. The XXL slide out provides a loft-like sense of space. Exclusivity for the highest standards was the stipulation in the execution of the entire interior design.
From 890 €
per day, plus logistics
LOUNGE
dining table incl. storage for remote
control 36 Zoll LED TV
Ketterer Sat-Anlage incl. WIFI
Kathrein Receiver
Ketterer Dolby 5.1 Soundsystem
Sony Playstation
touchscreen to control the entire vehicle
siscilles in real glass optics above the
seating group
skylight with remote control including fly
screen and darkening
indirect lounge lighting via LED wreath
air conditioning let in the cupboard system
sofa across to cab with folding backrest
sofa can be converted into a double bed
with good mattress
central vacuum cleaner system wtih hose
and various nozzles
bedroom
queensizebed 1.600mm x 2.000mm
(on request 2.200 mm)
bedside tables including design lights
indirect lighting under the bed
closet system
beamer with large retractable canvas
Ketterer Dolby 5.1 Soundsystem
1 mirror
air conditioning let in in the cupboard system
rear side with large panoramic window
Kitchen equipment
freezer and fridge 223 l
(170 l fridge + 53 l freezer)
microwave / grill combination
ceran stove top with 2 hobs
flush in the mineral material basin integrated
with removable shower
range hood integrated into the countertop
small apothecary cabinet
dishwasher under the fridge
skylight with remote control incl. fly screen
and dimming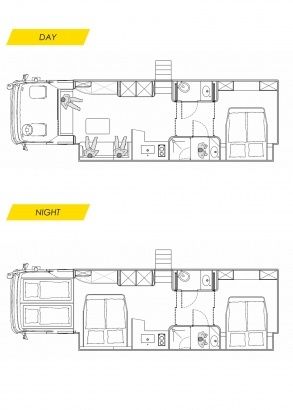 BaTHROOM / Wc
walk-in shower in light minderal material
glass serperation of the shower area
wash table with large sink and wall mirror
shower panel let in fine mineral material
integrated LED lighting
towel radiators
starry sky on the ceiling
mirror cabinet with plenty of storage space
ceramic toilet
starry sky
lower cupboard with sink and large mirror area
sleeping opportunities
bedroom 1.600 x 2.000 mm (2 persons)
alkove (2 bunks) each 1.200 x 1.600 mm
(2 persons)
steeple cab (folding bed) 800 x 1.800 mm
(1 person)
sofa (folding bed) 1.600 x 2.000 mm (2 persons)
chassis and mass
base vehicle/chassis ;AM TGX 18 t toal weight
fuel tank 400 liters, 35 liters of AdBlue
power 265 KW / 360 hp
total length 10.300 mm
total width 2.550 mm
total height 4.000 mm
total permissible weight 18.000 kg
pillow load slowed 3.500 kg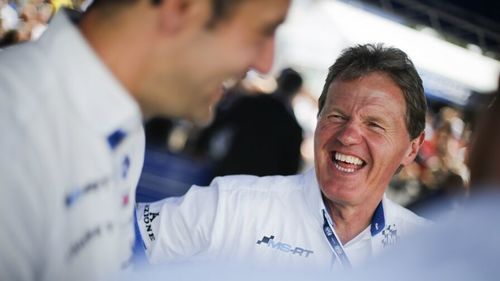 Malcolm
Wilson
Managing Director | England
Their professionalism and commitment is second to none and their state-of-the-art motorhomes come hand-in-hand with spacious, well-maintained and well-equipped work areas that allow our team to perform at the very highest level.